Home > Products > Leukocyte Reduction Filters > Platelet Pooling and Filtration System
Platelet Pooling and Filtration System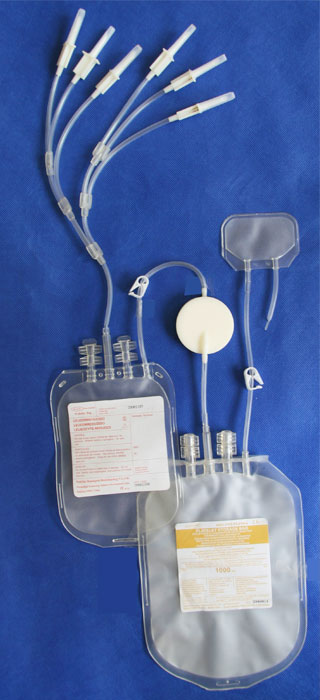 FTS-PL210-ps
FTS-PL210-ps Platelet pooling and filtration system
For pooling 6 units of random donor platelets and in-line leukocyte removal, and subsequent storage for up to 5 days when sterile tubing connection is used.
Product Features:
High leukocyte removal rate: residual WBC count<1×106 per unit.
100%removal of micro-aggregates.
High platelet recovery rate>90%.
High biocompatibility.
No prime needed before filtration.
Specifications:
Shelf time: 2 years.
Filter membrane material: biocompatible polyester.
Pooling bag: with capacity of 500 ml.
Platelet storage bag: with capacity of 1000 ml, for 5 days platelet storage.
Sampling bag: with capacity of 30 ml.
Sterilization: ETO gas.
Ordering Information:
FTS-PL Platelet Pooling and Filtration System
| | | | |
| --- | --- | --- | --- |
| Product Code | Filtration Capacity | Bags | Package |
| FTS-PL 210-ps | A pool of 6 units of random donor platelets | one pooling bag and platelet storage bag for 5 days storage | 80/case |
| FTS-PL 210-p | same as above | one pooling bag and one normal transfer bag | 80/case |
Related Keywords:
White Blood Cell Transfusion Filters
,
Medical Device Filters
,
Transfusion Filters